Course Overview
Nothing impacts your employees' engagement more than their manager
Gallup research shows that managers can account for at least 70% of their employees' engagement. And because engagement, as measured by the Q
12
survey, ties directly to workgroup profitability, productivity, and retention, improving your organization's performance depends on having the best managers possible.
To help managers succeed, Gallup developed the high-performance management course
High-Performance Management teaches managers how to integrate the characteristics of the world's greatest managers into their own management style. Gallup has spent decades studying great managers, discovering the common strategies they all share. By integrating those approaches into their own style, managers are able to increase their impact – and deliver high-performance outcomes from their team.
What to Expect
This fast-paced, two-day course, led by Gallup's best consultants, will give you the confidence and capability to effectively manage in ways that create and sustain high performance for you, your individual employees, and your team.
By attending the High-Performance Management course, you will:
Gain actionable insights into your own talents to help you individualize your management style
Use your talents to individualize your management approach and develop your employees' talents to improve their productivity
Practice proven techniques for engaging your employees, including leading effective conversations that help them enhance their performance
Create management strategies that yield higher levels of performance from your employees and teams
What Is Included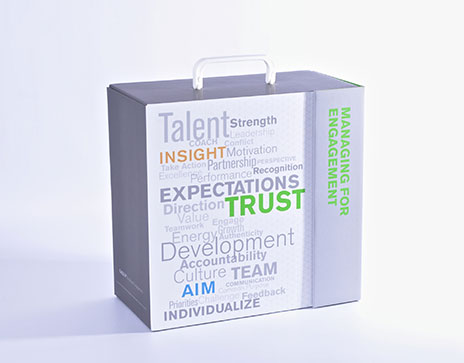 Managing For Engagement Kit
A vital resource, packaging unique content and tools to help leaders who want to individualize their management approach, engage their employees, and improve performance using Gallup's latest management findings and practices.
View the Employee Engagement Kit
One-On-One Gallup Coaching Session
This session will help you sustain the momentum and energy generated during the course. Together, you and your Gallup coach will discuss how to address your most significant management challenges and strategies to help you achieve higher performance.